My Mom and Dad were happy story tellers. All the stories they told were of happy times. I'm not sure if it's because there were a lot of not happy times they just didn't want to remember, of if it's because they were just wired to remember those happy moments in life – and those were their memories. Our photos, the stories told around the table and in cars on trips were always the happy moment. I don't think either were trying to hide anything, i just think that's the way they were.
I did an informal poll today on both my Facebook page to get an idea of how you scrapped. It was about 75% Real to 25% Happy. Neither is right or wrong. Being a Happy scrapper doesn't mean you're sweeping things under the rug, nor does being a Real scrapper mean you're so focused on the dark part of life you can't see joy. I think it's a personality trait more than anything.
I loved what Dawn had to say about her Happy journaling personality:
I tend to shy away from the bad stuff, or I will mention it but don't go into a lot of detail about it. Especially if it is my kid who is going through a bad time, like bad behavior or medical stuff. I'm not sure it's fair of me to throw a lot of info out there in our albums which could embarrass them later down the road. I guess I'm a believer that some things are TMI or just private to the person experiencing them. I do on rare occasion do a page just for catharsis about my own stuff, but I keep that just for me and don't put it in our family albums.
Here's a sample of a real journaling story from my team member, Laura. She's pretty famous for telling it like it is in hour journal style, and sharing her innermost angst as well as joys.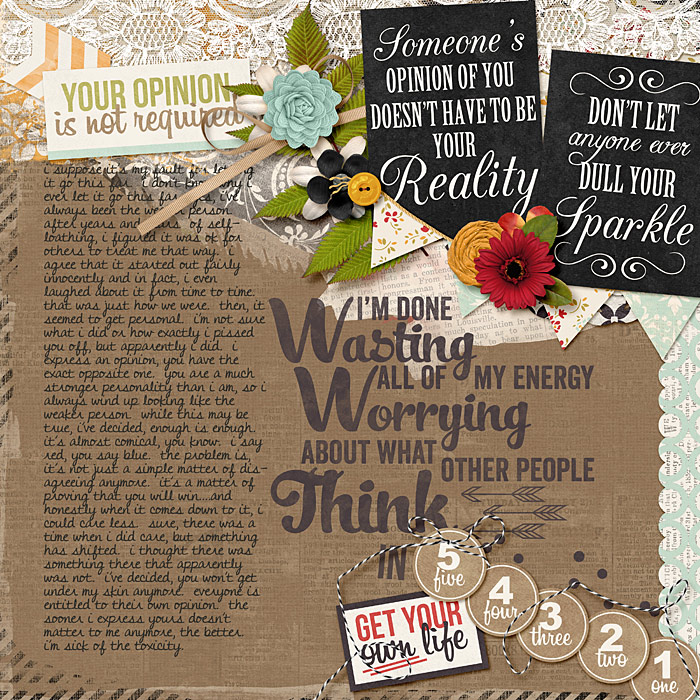 Me, on the other hand, I'm a mixture. When looking through my gallery, I found that I do like to scrap all of our times, which are mostly happy, and even when I'm scrapping the not so great times, I'm not fully sharing my anxiety or fear, but wanting to make sure I get that moment down…because it happened. Our lives are full of joy and pain, sorry and happiness, and while I don't want to dwell on the bad, I do want to record the memory as long as it is a  memory of our journey, and not delving into the pain. Here's an example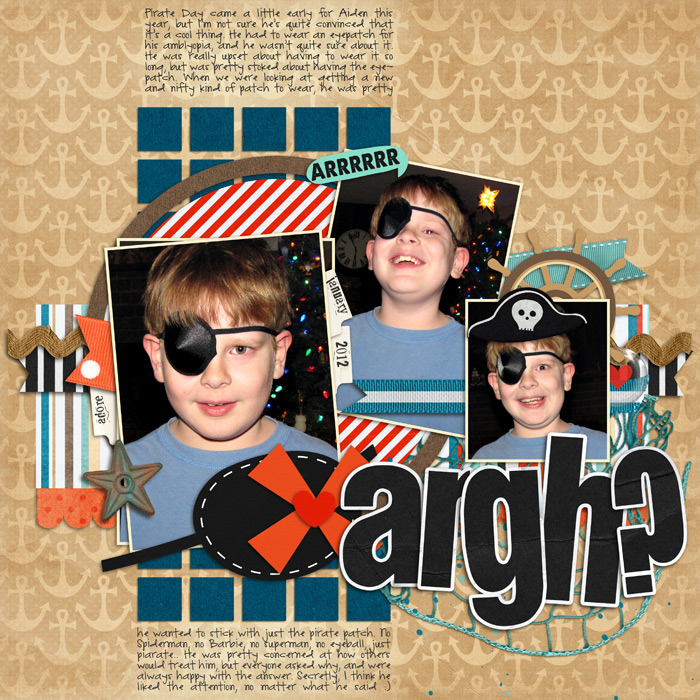 Our son was diagnosed with Amblyopia about a year ago, and I had a ton of mommy-guilt about why we hadn't noticed any of the signs earlier. Aiden was really concerned about what people were going to think of him, and frustrated by all this new attention that made him feel uncomfortable and pulling him away from his safe little world. But I found when I journaled it, I was a little more matter of fact about it, and stuck with more of the story of the actual aftermath and the funny side of it more than I told the angst, but I still shared the moment of uncertainty with the layout.
What about you? How do YOU scrap your stories? Are you Happy or Real? Funky or straight-up?
Feel free to grab any of my fonts to help you express your mood in your storytelling and memory keeping projects! You can find them at :
These fonts are free for personal use (not-for-profit). If you have a question about what constitutes personal use, check out this info or contact me with questions.
If you would like to use this for your commercial/professional ventures, please purchase a commercial use license here. For your records, be sure to include the name of the font you are purchasing the license for.
You can also get your own handwriting font that would tell your story on all of your layouts in your own voice. You can even get it for free! See the details here.
If you sell any merchandise using a font of mine, you'll need a commercial use license which you can get here>>> Check out the details here.


Unfortunately, I cannot control the ads that Google shows you. If one says DOWNLOAD HERE - DO NOT HIT THE DOWNLOAD BUTTON. I wish I could remove it, but I can't. Thanks for understanding.